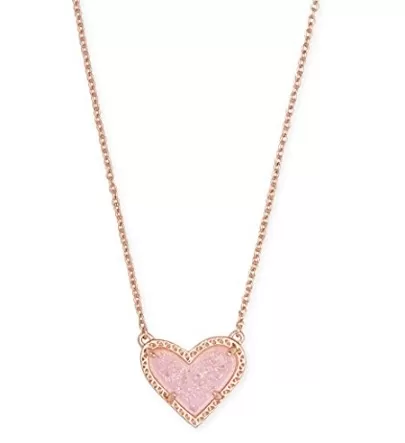 Kendra Scott Adjustable Heart Pendant Necklace for Women
Product Code: 11
Product weight: 0.50 Pounds
Add the hint of love to your look by simply wearing Kendra Scott Ari Heart Pendant Necklace. Online jewelry store in Pakistan offers this latest and trendy women's necklace for jewelry shopping online in Pakistan. It is the fusion of beauty, elegance, and style, so it portrays the affordable luxury style. If you like wearing minimal necklaces for women, you should add this to your cart for online artificial jeweler shopping in Pakistan. The decency and grace of this heart pendant necklace will elevate your overall look for any occasion or event. 
Features: 
Kendra Scott has made the Ari Hear pendant necklace with the perfect pop of color that enhance its beauty. 

The heart pendant is 0.49 L x 0.57" W in size whereas the neck chain is around 15 inches in size. 

The 2 inches long extender allows you to adjust the length of the necklace as per your preference. 

It has a lobster clasp closure that ensures easy locking and unlocking without anybody's help. 

It comes in an original Kendra Scott jewelry box, so it is ready to be presented to the woman of your life. 

It is the ideal present for Valentine's Day, wedding, anniversary, birthday, Mother's Day, Christmas, etc. 

It is recommended to remove the necklace before swimming, exercising, cleaning, etc. because water or sweating can dull the shine of the necklace. 

Moreover, avoid contact with perfume, lotion, soap, or any other cosmetic product. 
So, do not think more, place your order now. Once you place your order, we proceed with the process to make it delivered to your place in a timely manner.

jewelry.pk's Advice
Before to order any product please make sure product technically fulfill your need and contain no illegal ingredients (e.g. wine, alcohol, pig, pork, animal based gelatin etc) or contents. For technical support or manufacturer's warranty of the products found on jewelry.pk you can contact directly with the original manufacturer or visit their website. We are just your importer of goods from USA, UK, China, Russia etc and will not provide any kind of technical support or product warranty or quality check. Photos may be enlarged or enhanced to show detail. Also read product reviews and rating before to buy.