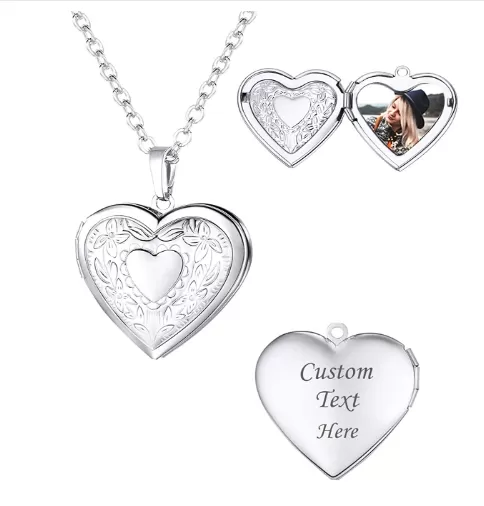 Platinum Plated Photo Locket Heart Necklace for Women
Present a women's platinum photo locket necklace to your girl and make her feel loved. This women's necklace has a beautiful women's locket with a picture that allows you to keep your precious moment closed to your heart in a form of a photo. Online jewelry store in Pakistan is featuring this locket necklace for women to bring ease to jewelry shopping online in Pakistan. If your woman loves wearing vintage lockets, tiffany locket necklaces, or heart lockets, you should buy this beautiful jewelry piece from our place. The services and facilities for online artificial jewellery shopping in Pakistan make you enjoy a streamlined shopping experience.
Features: 
This Locket Heart Necklace has a romantic heart pendant with flower engraving.

When you open a locket, you will find a place to hold a small picture of your loved one.

The size of the pendant is 1.5 inches, whereas the size of the chain is 22 inches with an adjustable feature.

The locket is made of eco-friendly copper material, and it has platinum plating to make it look expensive.

It comes in a ready-to-be-presented form, i.e. a black velvet pouch and a U7 design gift box.

You can present it on any special occasion, such as Valentine's Day, birthday, anniversary, wedding, etc.
Jewelry.pk has quality jewelry pieces at the best prices, so jewellery lovers can rely on us to buy women's jewelry online in Pakistan. Simply give your online order to us, and let us bring it straight to your home door with easy payment options.

jewelry.pk's Advice
Before to order any product please make sure product technically fulfill your need and contain no illegal ingredients (e.g. wine, alcohol, pig, pork, animal based gelatin etc) or contents. For technical support or manufacturer's warranty of the products found on jewelry.pk you can contact directly with the original manufacturer or visit their website. We are just your importer of goods from USA, UK, China, Russia etc and will not provide any kind of technical support or product warranty or quality check. Photos may be enlarged or enhanced to show detail. Also read product reviews and rating before to buy.