Original Kundan jewelry is the most sought-after Pakistani Jewelry online. Whether it is a wedding occasion, engagement dinner, or any traditional festival, real Kundan jewelry can complete the ethnic look for a special event. According to the latest trend, the original Kundan jewelry enhances the Pakistani bridal look. Even if you search for online artificial jewelry shopping in Pakistan, you will find an immense range of Kundan Jewellery on the search result page. Here we enlist the trendy designs in this category that you can opt for your special occasion. You can consider our online jewelry store in Pakistan to get the best trendy Kundan jewelry with price for jewelry shopping online in Pakistan. So, without further delay, let us show you some trendy picks from our collection.
Abhika Creations Golden Floral Kundan Hathphool Bracelet Traditional Indian Fashion Jewelry Jewelry Kundan Bracelet Ethnic Wear Festival Gift Punjabi Wedding Jewelry Indian Slave Bracelet
Aheli Ethnic Faux Kundan Studded Necklace with Earrings Set Indian Bollywood Style Wedding Party Wear Fashion Jewelry for Women Girls
White Round Shape Kundan 2 Finger Ring Linked With Pearl Chain. Adjustable Double Rings. Teardrop White Kundan Flower. Ethnic Fashion Jewellery. Contemporary, Handmade Unique Traditional Jewelry
Aheli Ethnic Wedding Wear Faux Kundan Beaded Necklace (White) with Maang Tikka Set Indian Fashion Jewelry for Women
Aheli Wedding Wear Indian Kundan Maang Tikka Earrings Necklace Set Bollywood Ethnic Traditional Jewelry for Women
Abhika Creations Red Glass Stone Hoop Earrings Handmade Indian Traditional Hoops Earrings Bollywood Style Kundan Hoops Wedding Kundan Jewelry Set
White Pear Shape Kundan 2 Finger Ring Linked With Pearl Chain. Adjustable Double Rings. Teardrop White Kundan Flower. Ethnic Fashion Jewellery. Contemporary, Handmade Unique Traditional Jewelry
Aheli Elegant Indian Traditional Wedding Wear Kundan Pearl Encrusted Choker Necklace Set with Jhumki Earrings Ethnic Bollywood Party for Women
Efulgenz Fashion Jewelry Indian Bollywood Faux Pearl Kundan Rhinestone Floral Bracelet Bangle (Gold (White), 2-4)
Abhika Creations White Pearl Kundan Jewelry Necklace Set With Matching Kundan Earrings Designer Handmade Indian Jewelry Set Bollywood Style Indian Punjabi Wedding Necklace Set
Jewar Necklace Layered Onyx Crystal Beads Gold Plated Pearl Polki Ad Cz Multi Stones Gold Tone Meena Work With Matching Earrings Long Jewelry Set For Women And Girls (Green)
Aheli Wedding Designer Choker Necklace with Jhumki Earrings Maang Tikka Set Ethnic Bollywood Fashion Jewelry for Indian Women & Girls
Touchstone"Devsena Bahubali Collection" Indian Bollywood Royal Mughal Kundan Polki Faux Pearls And Drops Long Stylish Bridal Designer Jewelry Earrings In Gold Tone For Women.
Aheli Ethnic Kundan Waist Chain Kamar Patta Faux Stone Studded Belly Chain Indian Traditional Saree Belt Wedding Party Wear Fashion Jewelry for Women
Dancing Girl Blue Kundan Traditional Pearl Kundan Indian Earrings for Women
Aheli Fancy Party Wear Long Kundan Necklace Earring Set Ethnic Indian Bollywood Fashion Jewelry for Women (White)
Aheli Indian Wedding Kundan Beaded Heavy Bridal Long Choker Necklace Earrings with Maang Tikka Traditional Jewellery Set for Women (White)
Abhika Creations Kundan Flower Stud Earrings Designer Kundan Fashion Jewelry Special Gift For Women Stud Flower Design Handmade Earrings For Women Unique Earrings
Abhika Creations Women's Golden Kundan Kanauti and pearls with Chain Handmade Earrings Indian Designer Fashion Jewelry
Aheli Indian Traditional Wedding Party Wear Faux Kundan Maang Tikka for Women Girls (Maroon)
Trendy Kundan jewelry designs:
When it comes to a regal look, women should pick a decent Kundan necklace. It is available in different designs, including polki choker, Rajastani necklace, pearl Kundan necklace, and more. Fashion experts suggest wearing a heavy Kundan gold necklace on the light party wear to look majestic yet decent. If it is an occasion of your own wedding, the complete Kundan necklace set can enhance your beauty with an ethnic touch.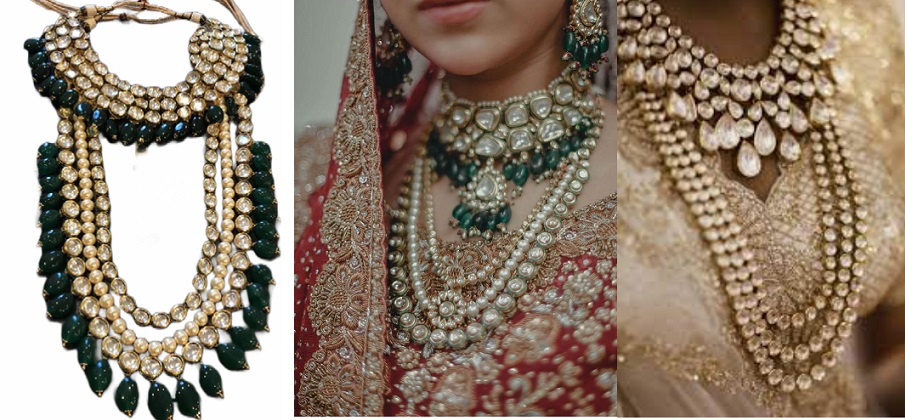 When it comes to earrings variety, you will find an extensive range of designs. It includes Kundan Jhumkas, Kundam jhumar earrings, Kundan chandbali, Kundan studs, etc. Fashion Experts consider them evergreen jewelry pieces because they can go with any ethnic and western wear. The simple delicate long Kundan studded earrings look beautiful on the western maxi or party dress. Similarly, you will look more traditional if you wear the heavy earrings on any eastern party wear.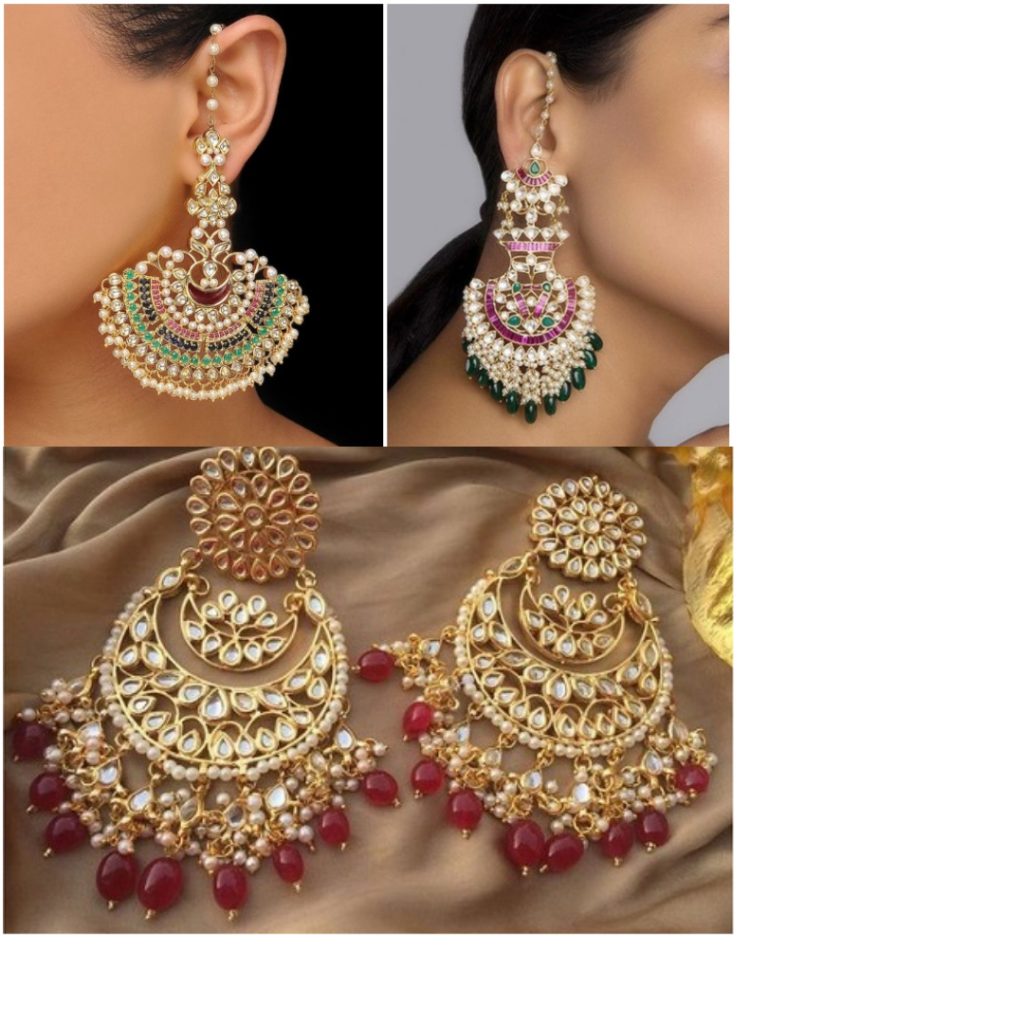 Choker Necklaces set count in the modern jewelry trend in Pakistan. They create the imperial look effortlessly and add ethnic beauty to traditional party wear. These sets contain a beautiful heavy choker necklace and a pair of exquisite earrings. The clustered pearl beaded choker with a beautiful sheesha Kundan bauble is found the most trending in this collection. However, Pakistani brides can go with heavier designs in the choker sets to look heavily ornamented. You search for Kundan jewelry shopping online in Pakistan helps you find the latest trendy designs at the best price.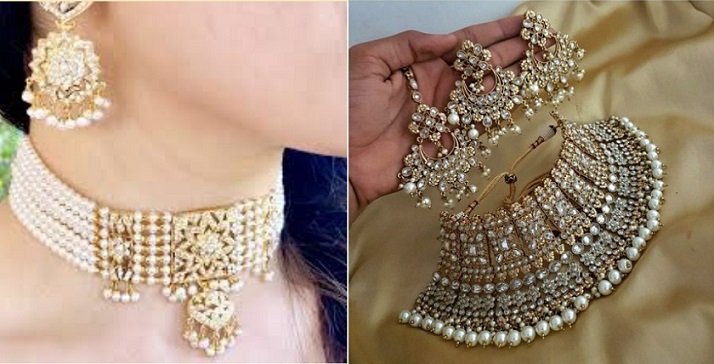 Nowadays, bangles fashion has been revived, and Kundan studded designs have taken over this trend. The mixed sets of multi-stone Kundan bangles and gajra bangles look phenomenal on bridal wear dresses. You simply wear a pair of gold Kundan bangles or a complete set of multi-stone bangles as per your looks requirement. A variety of designs and sets are available online for Kundan jewelry shopping in Pakistan.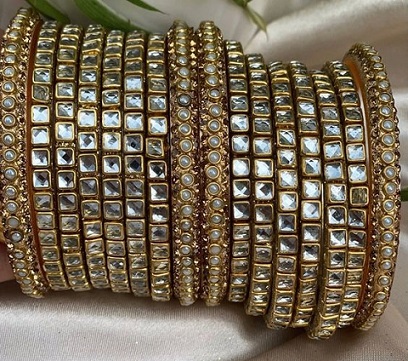 For a fully embellished and exquisite look, brides prefer adding the Kundan maang tikka or Kundan matha Patti. They ornament the forehead beautifully to make a bride look exceptionally striking. The large mang tikka is the most sought design that almost every second bride chooses for their mehndi or baraat look.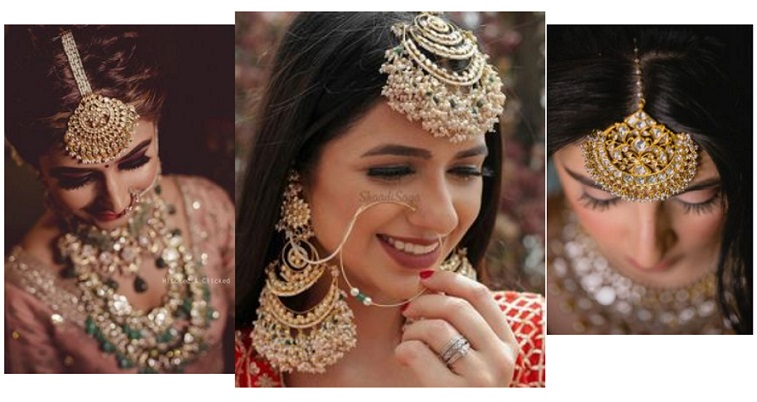 Pakistani brides are mostly considered prime Kundan jewelry because it complements the heavy bridal dress. When you search for Kundan jewelry online in Pakistan, you will find a huge variety of gold Kundan jewelry and Silver Kundan jewelry. Moreover, the designs and styles are also available in diversity. Therefore, it may seem hard to pick the trendiest one for jewelry shopping online in Pakistan. Here we enlist the trendy designs for Pakistani brides.
Indian Jewelry is famous for its heavily embellished stones and intricate design. Therefore, it looks phenomenally beautiful on traditional brides. It is the major reason why Pakistani brides consider Indian Kundan sets for their special wedding events. It contains a heavy Kundan choker, a Kundan mala necklace, a heavy matha Patti, and beautiful earrings. Indian jewelry is highly demanding because women consider them the prettiest. They also have colored dangling pearls, such as maroon, red, green, etc. Some brides consider wearing green stoned jewelry on the red or maroon bridal dress. If you are a fan of Indian bridal sets, you will find them online through online artificial jewellery shopping in Pakistan.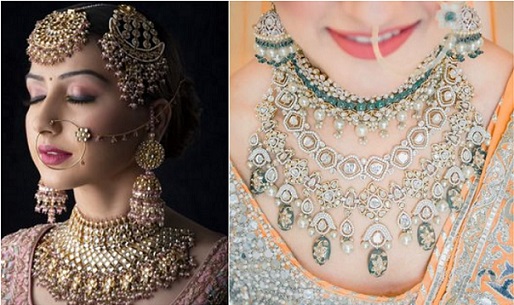 When it comes to the mehndi occasion, brides mostly consider multi-stone jewelry sets. These sets feature a dedicated design with embedded sheesha Kundan stoned and colored rhinestones. You will find mala style, choker style, and polka necklace style jewelry in this variety. The embedded stone colors may include maroon, green, blue, yellow,black, pink, and red. The best thing about this style is that it can complement every traditional outfit for any occasion.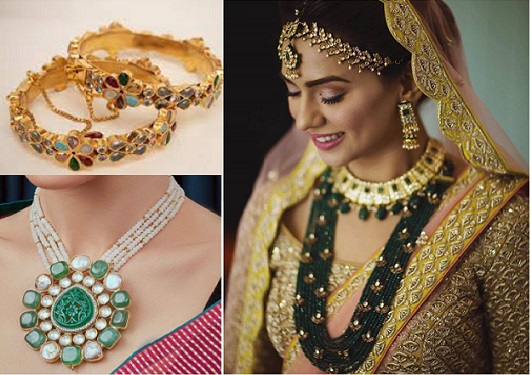 Pearl jewelry looks exclusively classy and stylish. Therefore, jewelry craftsmen have infused pearl strands with Kundan necklaces. They were trending in the late 60s, but this trend has turned back this season. The best thing is they are relatively light in weight than other Kundan necklaces. According to the latest trend, nikkah brides consider wearing pearl Kundan sets to complement their nikkah bride look. Even you can add a beautiful nath having pearl strand and Kundan design. It will complete the traditional Pakistani bride look.

4. Pakistani Meenakari jewellery:
If you are looking for beautiful bridal jewelry at an economical price, you should consider meenakari jewelry. They are super light in weight, but they look fully embellished. The simple meenakari jewellery features multi colors with pearl dangling. However, you will also find a meenakari Kundan necklace set for a traditional look. They are precious and semi-precious stones adornments that make them look prettiest. You will find various colors in these sets that make them diverse in their designs.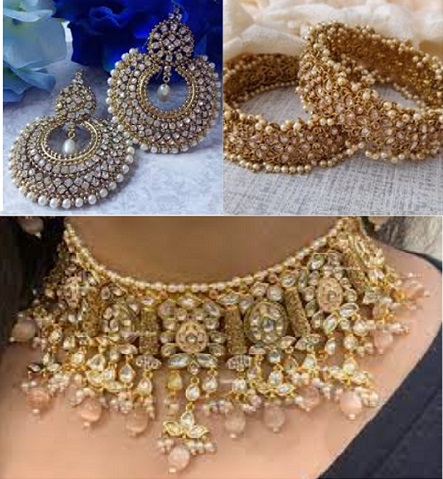 Hope! You are now ready for Kundan jewelry shopping online in Pakistan. You will get the best bridal Kundan set price in Pakistan through our jewelry store. Whether you like silver finish or gold finish Kundan jewelry, you will easily find it in our collection. We have made our collection versatile by bringing beautiful women jewelry pieces from different sellers. So, you can even find Kundan jewelry amazon and aliexpress at our place. Let us give an answer to the most asked question what is Kundan jewelry made of? It is made of pure gold and embedded with precious glass stones. Therefore, it is always worthwhile to add some trendy designs to your jewelry box.