Turkish Jewelry shopping in Pakistan becomes famous and the most demanding after the success of Turkish dramas in Pakistan. Whether you are a fan of Ertugrul Ghazi, Halima Sultan, Ottoman, Bala Khatoon, or any character, you must be very fond of their beautiful Ethnic Turkish Jewelry. Moreover, modern Turkish jewelry has also become a fashion trend of this era. But, do you know the history, ethnicity, culture, and details of these exquisite Jewellery items? In this context, we discuss the history and show the variety that you find for Turkish Jewelry shopping online in Pakistan. Read ahead and take a full insight into the Jewelry making art in Turkoman tribes.
Nazar ! Turkish Handmade Jewelry White Enamel Evil Eye Sapphire Topaz Sterling Silver Ring Size With Multiple Size Options
Turkish Collection Handmade Jewelry Antique Gold Jewelry Indian Retro Jewelry Ruby Emerald Dangle Earrings Jewelry with Small Crystal Zircon For Women gift
Handmade Turkish Authentic Jewelry Round Shape Cut Emerald Topaz 925 Sterling Silver Band Ring for Gift for Ladies Size ALL
PERGEN Evil Eye Necklace for Women, 14K Gold Plated Chain Turkish Dainty Fashion and Trendy Jewelry, Cute Long Protection Ojo Turco Nazar Charm Pendant Necklaces for Teen Girls (Gold Evil Eye Necklace)
Handmade Turkish Authentic Jewelry Round Shape Cut Topaz 925 Sterling Silver Band Ring for Gift for Ladies Size ALL
Womens Luxury Red Natural Stone Bracelet Vintage Antique Gold Color Crystal Bracelets for Women Turkish Jewelry
Handmade Turkish Authentic Jewelry Round Shape Cut Turquoise Topaz 925 Sterling Silver Band Ring for Gift for Ladies Size Option
Zephyrr Afghani/Turkish Statement Beaded Long Necklace Tribal Junk Women Jewelry
Silver Dainty Evil Eye Necklace and Hamsa Necklace Turkish Blue Eye Hand Pendant Necklace 3pcs Lucky Protection Jewelry Gift for Women Girls
12/24Pcs Beaded Evil Eye Bracelet for Women Handmade Elastic Protection Bracelet Good Luck Nazar Amulet Bangle Lucky Turkish Religious Symbol Jewelry
Turkish Jewelry Handmade 2 rings in 1 ring Reversible Drop Shape Pear Cut Shiny Alexandrite and Topaz 925 Sterling Silver Ring Size All
Fashion Style! Turkish Handmade Jewelry Round Shape Ruby and Round Cut Topaz 925 Sterling Silver Ring Size All
Dinuo Natural Turquoise Stone Ring 925 Sterling Silver Ring Unique Design Turkish Handmade Authentic Ring with Gemstone color 1
AntDear 14K Gold Evil Eye Bracelets, Blue Evil Eye Bracelet for Women Girls, Dainty Turkish Ojo Bracelets Protection Jewelry (Gold)
Zephyrr Afghani/Turkish Drop Earrings Silver Tone Casual Daily Wear Statement Jewelry For Women, (JAE-3455)
3pcs Natural Stick Agate OR Turkish Agate Gemstone Cabochons Wholesale Lot, Jewelry Making Loose Gemstone, Polished Minerals, DIY, Wire Wrapping, Healing Crystals, Bulk Gemstone Deal
Zephyrr Fashion Silver Turkish Style Beaded Chandbali Earrings Statement Jewelry For Girls And Women
Zephyrr Handmade Blue Boho Choker Necklace Set With Earrings German Silver Beaded Tassels for Women Mirror Bohemian Jewelry JAN-2242
Turkish Handmade Jewelry Round Cut Sapphire Emerald Turquoise Pink Ruby Amethyst Black Onyx Topaz Zircon 925 Sterling Silver Jewelry Set Earrings,Pendant and Ring Size
Turkish Handmade Jewelry Huge Oval Shape Alexandrite 925 Sterling Silver Ring Size Option
Brief History of Turkish Jewelry:
Over the Course of Turkoman History, jewelry craftsmanship evolved a lot. During the era of Seljuks, most of the jewels were brought from Anatolia. They were embedded with precious stones, such as pearl, Ruby, Sapphire, Turquoise, etc. Moreover, these jewels were also reflecting the pastoralist symbols that were linked to the Seljuk nomadic culture. For instance, the motifs of birds, horns, tails, and animals. When you watch the old Turkish dramas, you will notice the regal touch in their jewelry and accessories. You will still find these jewel pieces in the Grand Bazaar Turkish jewelry Istanbul.

After the Seljuk period, Ottoman Empire was a golden era in which Turkish Jewelry Designers got a prominent threshold. Ottoman Women were known for their exquisite jewelry, in which Aigrettes was their symbol. Even Pakistani women also like the beautiful Turkish headpiece as it effortlessly enhances the women's grace and beauty. In addition to the beautiful aigrettes, women also wore bejeweled chokers, twisted bracelets, and encrusted necklaces. When it comes to men's Turkish jewelry, signet rings were the predominant one. When you explore online jewelry stores in Pakistan, you will find all these beautiful jewelry pieces that reflect the culture of Turkomans. After knowing this history, you must be eagerly waiting to view the collection for online artificial jewellery shopping in Pakistan. So, we enlist below the brief list of Turkish Jewelry online in Pakistan.
Variety of Turkish Jewelry:
When it comes to the variety of Turkish jewelry online shopping in Pakistan, you will find overwhelming designs. From Halima Sultan headpieces to classic Turkish rings, you will find an exquisite range of designs. Some have precious stones, some have motifs, some have symbolic engraving, and some have beautiful styles. The variety also encompasses jewelry in different materials, such as Turkish jewelry gold, Silver, Ivory, Pearl, etc. However, we categorize them below according to their trendy styles. Thus, it will be easier for you to choose Turkish Jewelry shopping online in Pakistan.
Signet rings were the iconic jewel piece for Turkish men. Even when you search for Ottoman Jewelry, you will find signet rings or Turkish rings in a huge variety. They are mostly handcrafted, having intricate detailing and engraving. The big precious stone makes these rings luxurious and regal in looks. Some of the famous gemstones embedded in these rings include Citrine, Turquoise, Topaz, Aquamarine, Emerald, Tiger's Eye, Labradorite, Onyx, and more. Turkish Archer Thumb rings were also symbolic of the Ottoman period, and they are also available online in the jewelry collection. All of these rings have an oxidized and vintage look that makes them retro, regal, and classic. These rings also symbolize power, so men will love wearing them.

If you ever visited the grand bazaar in Istanbul, you will mostly find beautiful choker necklaces and vintage Turkish necklaces variety in abundance. Women there love to be jeweled with these elegant pieces. Some vintage necklaces have embedded stones and intricate engravings. Whereas, some are simply regal and royal-looking gold necklaces. Women usually prefer wearing gold necklaces at weddings and any special occasion. However, the vintage ones are their ethnic picks for cultural events and occasions. Moreover, you will also find beautiful handmade pearl chain necklaces and beaded chain necklaces in this collection.

Turkish Earrings collection mostly contains handcrafted dangle earrings and stud earrings. They mostly have exquisite floral engravings with embedded gemstones. They dangle from the earlobe to give the vintage and ethnic look. Turkish women wore them while wearing aigrettes on the head. The gold, silver, and oxidized earrings are also available in these Turkish jewellery designs. If you like ethnic and boho designs, you should collect a few designs from this collection. The evil-eye earrings are also counted in the Turkish collection.

When it comes to beautiful Turkish Jewelry shopping online in Pakistan, we cannot miss the Turkish tasbih collection. Their Tasbihs or tasbeehs are not indeed the beautiful jewel in our collection. They are made of precious beads and stones that look luxurious and feel divine in hand. They are the best gift for a Muslim who loves collecting and using prayer beads. Even if you want to buy a hajj or Umrah gift, you can go with the Turkish tabeehs.

The first most jewelry that got hyped in Pakistan among women is the Turkish headpiece or aigrette. They look like a matha Patti that attaches to the women's head cap. The single headpiece covers the hairline and forehead and gives the ethnic look. They may seem like an Afghani Matha Patti, but the grace of Turkish head jewelry is a bit different. They have numerous tassels that cover the forehead with the regal tribal touch. Women in the Ottoman era wore it daily to look presentable and beautiful even in their regular dresses. On the occasion of wedding, they preferred wearing gold aigrette to look precious and luxurious. Most girls in Pakistan choose this jewelry piece for creating a unique mehndi bride look.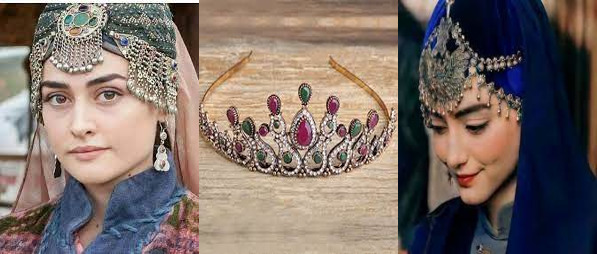 Turkish Brooches are famous for their high embellishment look, as they are embedded with multiple stones, rhinestones, and beads. Women can attach it to the hijab, scarf, dupatta, sweater, shirt, or even handbag. They are also used as lapel pins for men. If you are looking for ethnic-looking lapel pins for traditional dresses, you will find numerous options in these Turkish brooches. In addition to highly embellished brooches, the evil eye pins with different Islamic labels are also counted in this collection. They are indeed the traditional jewelry accessory that enhances even the simplest outfit effortlessly.

Turkish pendants are the most royal-looking jewelry as they have precious stone studded pendants with delicate gold chains. Some pendants have floral engraving and some have Islamic calligraphy. They are relatively larger than the regular pendants, so their grace is much brighter than the other designs. In this variety, you will also find the pearl chain with a large pendant. In addition, they also come in a complete pendant and earring set to let you create the perfect traditional look. The gold, silver, and ivory material are available to let you choose the best as per your preference and taste.

Turkish bracelets are available in vintage designs that feature intricate detailing, rhinestone embellishments, and luxury style. They look regal and beautiful on the wrist of a woman. If you love wearing bangles and bracelets, we suggest you look into the beautiful Turkish Jewellery collection. In addition to the heavy bracelet, this variety also encompasses evil eye bracelets, beaded bracelets, braided bracelets, vintage bracelets, and more. They are perfect to be worn at traditional events, weddings, functions, and parties. Moreover, they are the ideal present for someone who likes collecting and wearing ethnic bracelets. You can also present them as a friendship band.

Now, you must be thinking that where can you buy Turkish jewelry online in Pakistan. We have come up with an amazing collection of Turkish jewelry wholesale. No matter what your budget is, we have something for everybody. If you are a fan of traditional jewellery, you will love exploring our available collection. To broaden our collection, we also allow you to find and buy Turkish jewelry on Amazon in Pakistan. Moreover, you will also find beautiful Turkish jewelry boxes in our collection. So, what are you waiting for? Browse your favorite jewel piece and get them online with the great ease of online artificial jewellery shopping in Pakistan. The prices are competitive, so you will never get disappointed after buying any jewel piece from our collection.